Baked Polenta with Mushrooms and Swiss Chard
Try this with a side salad of red leaf lettuce, toasted sliced almonds and chickpeas for added protein. Vegans may omit cheese and substitute olive oil for butter and it will still be delicious.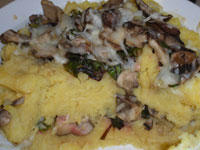 Preheat oven to 375 degrees.
4 cups water
2 cups instant polenta mix
2 cups mushrooms, sliced thin (I used a combo of white button, shitake, crimini and oyster)
3 cloves garlic, minced
6 large Swiss chard fronds, sliced or torn into strips
2/3 cup mozzarella cheese
¼ cup parmesan cheese
1 tbsp olive oil
2 tbsp butter or butter substitute (Smart Balance)
Salt & pepper
1) Boil water and slowly add polenta, stirring until it thickens, about 4 – 5 minutes.

2) In large saucepan, heat 1 tbsp. butter or butter substitute on medium heat. Add 2 cloves of the minced garlic and sliced mushrooms and sauté for a few minutes. Remove to a bowl.

3) Add olive oil to the same saucepan used to cook mushrooms and heat on medium-high heat. Add one clove of minced garlic and the Swiss chard and sauté about 5 minutes (may need to add a splash of water).

4) In a medium casserole, layer ½ of the polenta and add ½ of the remaining butter (cut into small pieces). Then add ½ of the mushrooms, ½ the chard and ½ the cheese. Repeat with a second layer.

5) Bake at 375 degrees for 7 or 8 minutes. Serve.
Send an E-mail to get added to the Vegetarian Light weekly email!