Asian Stir Fry, 3 ways
I make this dish about once a week. The hardest thing about making it is chopping the vegetables, but it's worth the effort. Talk about an antioxidant power-play! Eat your colors!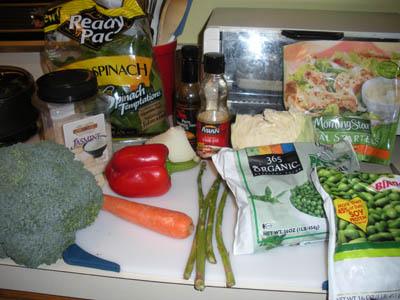 ½ medium-sized onion, chopped
½ pepper, your choice of color, chopped
1 crown of broccoli, cut into pieces
1 carrot, peeled and cut into small pieces
½ cup of cabbage, sliced thin
6 mushrooms, any variety, sliced or chopped
½ cup of fresh baby spinach
½ cup edamame (I use frozen)
2 tbsp. of Asian red pepper oil
¼ cup low sodium soy sauce
1 cup Jasmine rice
(Note: The vegetables listed above are delicious in this dish, but feel free to use whatever you have on hand. Celery, water chestnuts, bok choy, asparagus, frozen peas are all great.)
1) Start cooking rice, according to package directions (takes about 15 minutes).

2) Heat ½ of the oil and ½ of the soy sauce on medium-high heat in medium-sized wok. Add onions and stir fry a couple of minutes. Add next four ingredients and the rest of the soy sauce and oil and stir fry about 5 minutes.

3) Add mushrooms and edamame and stir fry a minute or two. Add spinach and let it wilt.

4) Choose 1st, 2nd or 3rd way below. Serve vegetables and choice of accompaniment with rice.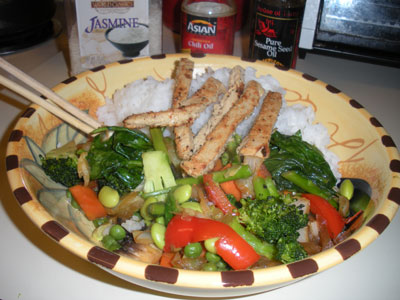 First way:
Add about 1 cup of extra firm tofu, cut into cubes (drain and dry tofu by pressing between paper towels before adding to dish). Add tofu cubes to wok and stir fry with vegetables. Okay to add this last.
Second way:
Add ½ cup of cashew nuts to wok and stir fry.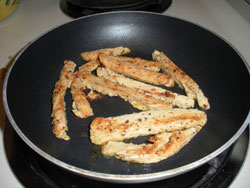 Third way:
Add about 1 cup of vegetarian chicken tenders. Fry the chicken tenders in a separate skillet in olive oil a few minutes on each side. Add to top of stir fry mixture when it is served. Do not add to wok as it will lose some of its crispy-ness.